Contribution of the OAU Permanent Mission in Brussels to the Activity Report of the Secretary-General for the period July 1996 to February 1997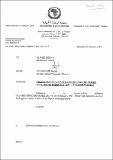 Date
1997-01-22
Author
Leba, Wawa O.
Bureau Permanent de l'OAU a Bruxelles
Contributor
Bureau Permanent de l'OAU a Bruxelles
Abstract
OAU Permanent Mission in Brussels (1997-01) Contribution to the Activity Report of the Secretary-General for the period July 1996-February 1997. Political matters with the African Group of Ambassadors in Brussels. Twenty-Third Session of the ACP/EU Joint Assembly, Future of ACP/EU Relations, Future relations between South Africa and the EU and their implications for the economies of SADC countries. Consultations with the European Union and Special Ministerial Conference to support the Peace Process in Liberia. Economic Matters, ACP preparatory Seminar to the Ministerial Conference of the World Trade Organization (WTO), 64th Ordinary Session of the ACP Council of Ministers 13-15 November 1996 in Brussels. Environment, Implemetnation of the Convention to combat Desertification. First Ministerial Session of the Economic and Social committee (ECOSOC) of the African Economic Community. Social Matters, 16th world Congress of the International Confederation of Free Trade Unions (ICFTU).
Reference
OAU.BRU/DIR/CABINET/RA.CM/11.97
OUA.BRU/DIR/CABINET/RA.CM/7.97
Format
PDF
Location of Print Version
Brussels
Collections