Report of the Chairperson of the Commission on the Situation in Mali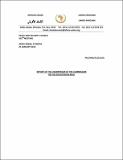 Date
2013-01-25
Abstract
During the period under review, the Commission paid sustained attention to the preparation of the documents required by the Security Council, under resolutions 2056 and 2071 of 5 July and 12 October 2012, respectively, to consider the request made by ECOWAS and the AU regarding the deployment of an international force in Mali.
Reference
PSC/AHG/4.(CCCLIIII)
Notes
Peace and Security Council 353rd meeting Addis Ababa, Ethiopia 25 January 2013
Format
Print
Extent
7P.
City
Adds Ababa
Country
ETHIOPIA
Start date of event
2013-01-25
End date of event
2013-01-25
City of event
Addis Ababa
Country of event
ETHIOPIA
Collections